Lørdag fik jeg endelig lejlighed til at købe andet end mad og drikke. ;-)
Jeg købte lidt på markedet - faktisk var det et meget beskedent indkøb.

En pose med stumper af gamle broderier og andet. Jeg gav 1.50 £ for det, det må da siges at være billigt. Og jeg kan ikke nænne at klippe i den slags, så så er det jo dejligt, at der er en anden, som har gjort det for mig.
Og så fik jeg en tidlig mors-dags-gave af Bolette.
En håndsyet broche - som jeg da sagtens kunne lave mage til selv. Men - hvornår får jeg gjort det??
Bolette købte også lidt småt og godt. Vi blev nærmest suget hen til en stand, hvor der bl.a. solgtes smykker, lavet af farveblyanter. Duften af dem var meget tydelig, når man kom i nærheden.

Vi fik også en meget hyggelig snak med den kvindelig halvdel af parret, som har lavet de fine ting.

Det blev også til en halskæde med et lille hjerte. Firmaet, som hedder I am Acrylic, laver nogle rigtigt søde ting og det tog lidt tid at vælge.
Og ellers osede vi godt og grundigt og så selvfølgelig flere ting, som godt kunne være kommet med hjem. Bl.a. var jeg temmelig betaget af de håndgjorte tasker fra Williams. F.eks. så er tasken her da ikke det grimmeste jeg har set.

Smykkekunstnere var der også mange af. Her Kristin Stride.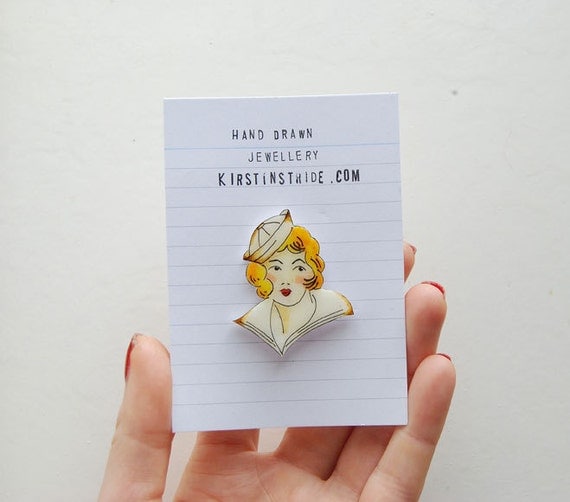 Og et andet firma med det spøjse navn Rogue Lobster.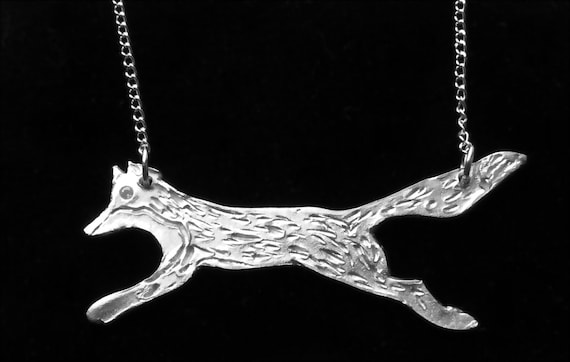 Der var rigtigt meget at kigge på og vi var selvfølgelig ikke alene, men det var nu slet ikke så svært at komme omkring eller at komme til at se på de udstillede varer.
Her er et indlæg om nogle andres indtryk af dagen. Jeg er lige ved at tro, at det var den selvsamme dame, vi så få håret sat efter alle kunstens regler a la 40'erne. Der er desuden også lidt om Collectif og Rokit, hvor vi også var tidligere på dagen.
Men vi var jo også hos Loop. Og der fik jeg købt to bundter garn. Da den søde unge dame spurgte, om jeg ville have en pose til dem, sagde jeg fluks ja tak, for jeg skulle da også have en bærepose, hvor der stod Loop på. Det viste sig at være en stofpose. Ikke af den bedste kvalitet, men det gjorde jo ikke noget.
og i den var garnet.

To bundter Loft i farven Soot. Før vi tog af sted, havde jeg en idé om, hvad jeg ville strikke, det er siden gået i glemmebogen. Men skidt, jeg skal nok finde på noget andet - eller komme på det igen - det gør heller ikke så meget, for dette garn gør sig rigtig smukt, som det er. :-)